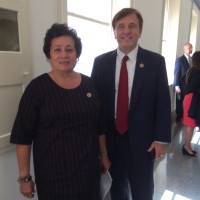 The VA's misuse of Employee Settlement Agreements was the main topic of a House Veterans Affairs Committee oversight hearing on Capitol Hill Wednesday morning.
Congresswoman Aumua Amata, a member of the committee said, "Today's oversight hearing is an important step in an ongoing effort to make the VA more efficient not only for the sake of veterans but also for VA employees and taxpayers."
The purpose of the hearing was to examine the Department of Veterans Affairs' (VA) use of settlement agreements between the Department and its employees.
The hearing examined the possibility that the VA uses these agreements as a way to avoid lengthy administrative, and potentially embarrassing legal proceedings with employees and if the benefits of these agreements outweigh the costs for taxpayers and veterans. 
The key witnesses invited to testify at the hearing were Leigh Bradley, General Counsel for the U.S. Department of Veterans Affairs and Mr. Eric Bachman, Deputy Special Counsel for Litigation and Legal Affairs from the U.S. Office of Special Counsel.
Also present at the hearing from VA were Mr. James Manker, Jr., Acting Principal Deputy Under Secretary for Benefits and Mr. Steve Young, Acting Deputy Under-Secretary for Health for Operations and Management.
The congresswoman thanked the Chairman and Ranking Member for holding this important hearing today.
She said, "It's imperative that we continue to hold hearings on issues such as this and ensure that government agencies are acting with transparency and consistency."