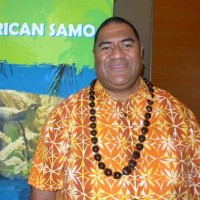 The longest hearing that engaged lawmakers since the start of budget hearings Monday happened today.
For about an hour,  lawmakers went the extra mile in scrutinizing the proposed budget for the American Samoa Visitors Bureau.
Executive Director, David Vaeafe accompanied by Board Chairman, Tom Drabble answered the committee's queries about the bureau's spending plan and operation.
In a repeat of previous years. House Speaker Savali Talavou Ale did not like the fact that the government is paying for the Executive Director's rent and other expenses.
This raised questions at to why Vaeafe's contract is different from that of other CEOs.
Play Audio
The Speaker found the arrangement unacceptable. He was also perturbed that Vaeafe's salary is increased each year/
The Speaker asked that a copy of Vaeafe's contract be provided for review before the Committee approves the Visitors Bureau budget.
Senate President Gaoteote Palaie , who had a lot to say about the Director;s salary last year, raised the same concerns.
Play Audio
Senator Tuaolo Fruean asked the chairman of the board Tom Drabble why the Executive Director is paid $15,000 for medical treatment?
He called this special treatment.
Tuaolo said he has nothing against Vaeafe and thinks he's a very good man doing a very good job.
Drabble, who only joined the board recently said he was not involved in the negotiation of Vaeafe's contract.
However, he has learnt from the time he has spent with the Executive and on his own as he travel for his own business trips that Mr. David Vaeafe is perhaps one of the most respected people in the Tourism Industry in the region and internationally.
Drabble said American Samoa needs Vaeafe ;s expertise and he is quite happy with the directore;s performance. .
The chairman said in most Pacific islands, tourism is their biggest revenue earner.and American Samoa need s to carefully at the tourism industry carefully,,,tas it is a long term process.
While lawmakers believed that the agency's budgte of more than $751,000 is too much, Vaeafe pointed out that in comparison with other island's budget for Tourism development, American Samoa has the lowest.
$80,000 is allocated in the bureau budget for travel expenses and Vaeafe indicated that travel shows is one of the ways tourists from around the world are being introduced to American Samoa.
Vaeafe's contract was prepared by the Attorney General and the AG will be questioned about the ASVB's contract when he appears tomorrow morning.