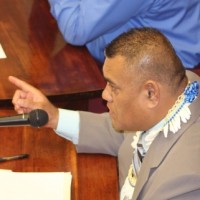 Manu'a faipule Vesi Fautanu Jr. is overjoyed that the sabotage bill for American Samoa has cleared a Senate Committee and he looks forward to news that its passed both the full Senate and the House and signed by the President.
Vesi had identified air and surface transportation to Manua' as a top priority for his first term as a representative for his district in the House.
He met with Congresswoman Aumua Amata, and even flew to Apia to meet with Polynesian Airlines management to get their input on how the sabotage law can be reformed so that Polynesian can have permanent  authority to serve the Manu'a route while there's no US carrier to do the job,
Vesi said while he's thankful that the Samoa carrier is providing essential air service for his district he's seeing some unpleasant tactics by Polynesian.
He said for sure the airline is taking advantage of being the only carrier on the route and he's made this known to Polynesian CEO Seiuli Alvin Tuala.
He complains that the airfare is above $200 for a flight that's less than 40 minutes.
He questions the honesty of airline staff who tell passengers the flights are full and in order to get a seat they have to pay extra.
But when people board the flights there are a lot of empty seats.
Vesi said he wanted to make it worth Polynesian's while to serve Manu'a and suggested that one of the airline's planes fly the American Samoa flag so it doesn't have to be subject to the sabotage restrictions.
But he has seen the airline taking advantage of being a monopoly and he's now of the opinion that if Poly doesn't get competition, it will not change.
The Manu'a faipule welcomes efforts by Asst Secretary of Interior Esther Kiaaina and Congresswoman Aumua Amata to push the sabotage bill through and he's praying that it will be passed by both the House and Senate before Congress adjourns.