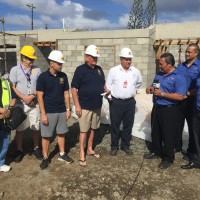 The Community Swimming Pool Project received a generous donation from ASCO Motors today.
At the construction site at the Lions Park this morning, ASCO CEO Rajendra Singh, flanked by other ASCO Motors team members handed over a check of $4,000 to Rotarian's led by board member and past president Tom Drabble and vice president John Raynar. 
Singh encouraged other businesses and residents to donate for the swimming pool project. 
Play Audio

The first phase of the swimming pool project is expected to be completed by November.

Tags: