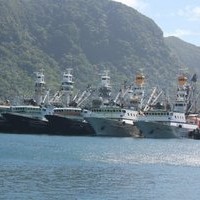 The President of the American Tunaboat Association, Brian Hallman, says the fishing agreement reached over the weekend in Zealand between the United States and Pacific Island countries is from the point of view of the US fleet, the  best outcome they could have achieved under difficult circumstances.
He says there are several changes in the new agreement which were not part of previous deals.
The agreement is for six years nand US vessels are not required to purchase any fishing days in any given year, individual vessels will be able to decide how many Treaty fishing days they wish to purchase.
Thirdly the high seas is no longer part of the Treaty area.
Hallman says these are all positive changes from the point of view of the US fleet.
On the other hand, the Treaty going forward will provide fewer multilateral fishing days than it did in the past. And those fishing days — should US vessels decide to purchase them — will be expensive.
Hallman explains, "Because there will not be enough Treaty fishing days in the future for the US fleet, access to the waters of Pacific island countries will need to be obtained via bilateral or sub-regional agreements negotiated under the umbrella of the Treaty."
Hall said, "Whether the restructured Treaty will help provide a viable future for the US fleet remains to be seen; ATA is hopeful that it will do so."
Deputy Director of the Fisheries Forum Agency Wes Norris says in a statement that the  overall package, could be worth as much as $70m for 2017 "if the fleet takes up all its available opportunities."
While that figure may seem lower than previous one-year deals that have been struck (which were worth up to $90m) it is for a far lower number of fishing days, and the rate of return to the Pacific for each fishing day has never been higher.
Norris, says "By the end of the deal the Treaty will be providing returns of over $14,000 per fishing day in addition to the economic assistance that each country receives.  At the start of the negotiation, that amount was somewhere in the vicinity of $2,000 per day."