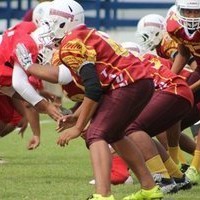 In one of the closest football championships in recent memory in any league, the JPS Football finale lived up to all it's hype.
It all came down
 to a blocked 2 point conversion in the Vikings upset over the undefeated Warriors.
The Vikings are the champs of the 1st season ever for Junior Prep Sports Football here in American Samoa.
The JPS Founder Robert Faleafine said JPS Football serves an important purpose in the territory.
Play Audio
Following the game, i-mpact trophies were awarded to one player from each team – Lions Fa'alii Fa'amoe, Sharks JD Fa'alogo, Warriors Koizon Ozu, Vikings Grey Taulauniu.
Coach Pooch Ta'ase became Coach of the Year.
Championship Game MVP was awarded to Vikings OJ Bartley, Offensive Player of the Game was Vikings Georgie Mageo, and Matthew Nusi was the Defensive Player of the Game. 
Faleafine went on to say that American Samoa has a chance to be very competitive with teams from Hawaii and the mainland.
Play Audio