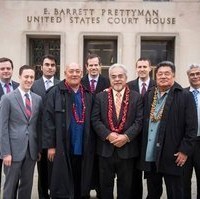 Supreme Court attorney Theodore B. Olson yesterday filed a reply brief before the Supreme Court in Tuaua v. United States, a case addressing birthright citizenship for people born in American Samoa who are currently US nationals and not citizens.
Last June, the D.C. Circuit held that the meaning of the Citizenship Clause was "ambiguous" as to whether its guarantee of birthright citizenship applied in overseas U.S. territories.
The panel's opinion also broadly expanded the reach of the Insular Cases, which have been regarded as almost law in the application of birthrights for people born in the territories,
The Supreme Court  held that rights recognized as "fundamental" in other parts of the United States may not apply in "unincorporated" U.S. territories like American Samoa.
Mr. Olson, who represents the Tuaua petitioners says, "That the government is forced to rely on a radical enlargement of the Insular Cases to justify denying application of the Citizenship Clause in
U.S. territories speaks to the importance of Supreme Court review.
"We hope that the Supreme Court will accept review to once again make clear that Congress has no power to turn off or redefine the Constitution's guarantee of birthright citizenship."
The Supreme Court is set to decide on whether it would hear the case before the end of June.
Neil Weare, who argued the case before the DC Circuit is President and founder of the People Project, a non-profit organization that advocates for equal rights and representation  for over 4 million Americans living in US territories,
He says, "The Supreme Court has the opportunity now to once again make clear that the Citizenship Clause means what it says and to finally turn the page on the Insular Cases, which are relics of another era."
Weare insists,"Failure to grant review would place at risk the citizenship status and constitutional rights of more than 4 million Americans who live in U.S. territories."
Objections to the Supreme Court hearing the case have been filed by the Solicitor General, the Center for Constitutional Jurisprudence, academics from Puerto Rico, Guam and the Virgin Islands and the American Samoa Government.