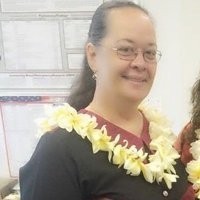 Governor Lolo Moliga has asked the cabinet for prayers for Ms. Pohakalani Mauga, wife of Lt. Governor Lemanu Sialega Mauga.
Mrs Mauga has been in Honolulu since last year undergoing treatment for what KHJ News has been able to confirm from family members to be cancer.
She has publicly spoken at territorial events as a cancer survivor.
Governor Lolo said at today's cabinet meeting that doctors seeing Mrs Mauga don't believe there's anything more they can do about her health and the family is planning to bring her home with hopes that there will be a change in her condition.
KHJ News understands that Lt Governor Lemanu is currently with Mrs Mauga in Honolulu and there are plans to bring her home soon.
Mrs. Mauga, who is of Hawaiian descent, is a teacher by profession and one of her projects was teaching classes for juveniles at the Juvenile Detention Center.