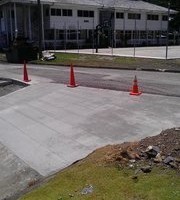 Fagatogo lawmaker Maugaoalii Leapai Sipa Anoa'I has sent a thank you letter to Fletchers Construction for improving the boat ramp in his village.
In a letter to Fletchers General Manager Dean Hudson Maugaoalii says as the territory gets ready to celebrate Flag Day, he extends his heartfelt gratitude and profound appreciation to Fletchers for their assistance in expanding the "Iseulaolemoana lll" boat ramp in Fagatogo.
He said the improvement tremendously helps with the launching of the new Iseula fautasi as it prepares to compete in the Flag Day race. 
Maugaoalii said the expansion of the boat ramp will also make it easier for local fishermen to offload their catches closer to the Fagatogo marketplace.

According to Maugaoalii, with the development of the new Fagatogo Mini Park Playground soon to be completed, the boat ramp will aid in the development of water sports such as canoeing. kayakng and waterskiing in this area.

He said these are certainly real possibilities and something they want to explore going forward.

The faipule told Hudson, "Again on behalf of a grateful village and the Fagatogo Fautasi Committee we thank you Dean, for your unselfish contribution to our community. We welcome you to witness the maiden run of the New Iseulaolemoana lll this April Flag Day 2016."

Tags: