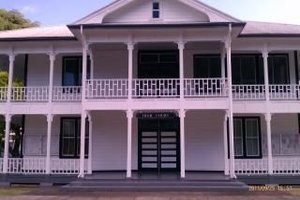 Chief Justice Michael Kruse has postponed sentencing for Va'atausili Tofaeono until Friday this week.
Tofaeaono was charged with driving under the influence while his license was suspended and pleaded guilty to felony driving while the DUI charge was dismissed.
In High Court this morning for his sentencing, the 38-year-old defendant read a written statement apologizing to the court, judges and his family for violating the law.
Tofaeono, who is active in the American Samoa Cancer Coalition, informed the court that there are community projects he's in charge of that may be in jeopardy due to his situation.
His attorney, Assistant Public Defender Mathoni McCormick, said from the time he spent with his client, he can tell that Tofaeono is genuinely remorseful and desires to be a changed man .
McCormick asked that his client be granted work release so he can continue his service to the community through various projects he's involved with.
Prosecutor Assistant Attorney Tyler Ganzel simply agreed with the defense's motion.
After a brief recess, Chief Justice Michael Kruse, flanked by judge Muasau and Faamausili, returned to the court room and announced that he was continuing sentencing of Tofaeono to Friday.
Kruse said that this wasn't the defendant's first DUI case and the court recently ruled on a case similar to Tofaeono's which the judges wanted to look at.