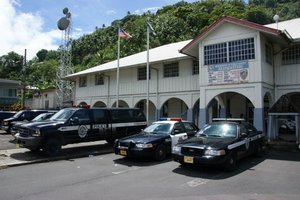 Commissioner of public safety Save Liuato Tuitele has threatened to close down the criminal investigation division of DPS if he doesn't see satisfactory results from the unit in solving crime.
The commissioner spends a lot of his weekends and nights reviewing criminal case files and says he come across many cases which have remained unsolved for some time.
Save at a recent meeting with the CID staff made known his disappointment with the lack of results from the division.
The commissioner said he threatened to close down the CID Division if there's no improvement.
Save told the CID investigators all they seemed to be doing was driving around in police units , as if to show the public they are cops…and wasting government gas in the process.
The commissioner has extensive experience in criminal investigations having headed the CID Unit of the US Army Military Police at Ft. Lewis, Washington.
He periodically conducts criminal investigations training for the local police force.
Save is looking forward to networking with Samoa's Police Commissioner Fuiavailili Egon Keil to send local officers for training at a regional center for intelligence gathering and crime solving in Samoa that's established through the Association of Chiefs of Police.
Samoa's Police Commissioner and a counterpart from Australia were in the territory earlier this month to meet with Commissioner Save.
Save said he's particularly interested in the community policing program that Samoa has established.