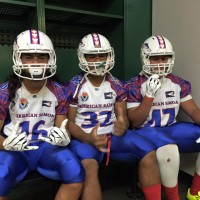 We take you back to the excitement of yesterday's game between the Amerika Samoa Senior All Stars and Northern Cal.
LJ Solo calls the action.
Final score Amerika Samoa 14, Northern Cal-7.
John Raynar and Sia Atofau talked with Leti after his standout pursuits on the field and asked how he was feeling.
Leti sending his thanks to his family, church pastor, and someone special for their prayers and support.

Don't forget to tune in at 6 pm tomorrow on V103 and wvuv.com for the second and final game for our team.

Our coverage from Aloha Stadium is presented by Hawaiian Air.

Tags: