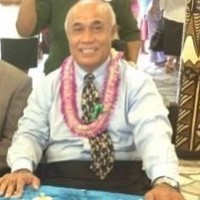 The Board of Trustees of the American Samoa Government Employees Board of Trustees was unanimous in its decision to appoint Iaulualo Faafetai Talia as the new Executive Director of the Retirement Fund.
The chairman of the Board, Vaanatiu Toafala, responding to KHJ News questions said the interview panel, comprising Board Vice Chairman Lei Sonny Thompson, and members Maaelopa Bob Tuiasosopo and Tony Togiai, ranked the seven applicants for the position and Iaulualo had the top score.
Each of the board members then cast a vote and all voted for Iaulualo to get the job, said Vaanatiu.
The chairman says Iaulualo's appointment is effective tomorrow, and his contract is for two years.
Iaulualo was most recently Vice President of the Development Bank of American Samoa, but resigned last week after being notified in a December 31st letter of his appointment.
Iaulualo is a former Vice Speaker of the House of Representatives, former director of Human and Social Services and former deputy treasurer.
He also worked in private financial institutions in the US mainland.
The other applicants for the post, according to the board chairman, were Alfonso Pete Galea'i, Charles Warren, Mike McDonald, Victor Stanley, Paul Young former CFO for ASPA, and a resident of Utah, Mark Hedquist.
Asked about the status of the former director Luatua Filisouaiga Taafua, Vaanatiu said he is withholding comment until the board has finalized a decision on Luatua's employment status.