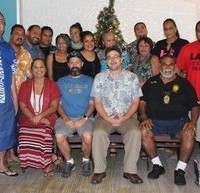 Since 2009, V103 Radio has been airing weekly high school football games live from the Veterans Memorial Stadium.
Tomorrow our football commentators and Samoa Sunrise crew, will be broadcasting the American Samoa All Star high school football team's game against Northern Claifornia In the JPS Classic at Aloha Stadium.
It will be the first that our radio station is sending a crew to cover an off island event.
We normally rely on outside talent for off island coverage.
Leaving tonight for Honolulu John Raynar, Sia Atofau and LJ Solo, with General Manager Joey Cummings.
Their trip to Honolulu is made possible by the generous assistance of Hawaiian Air and several local companies that sponsor our high school football broadcasts.
General Manager Cummings says V103 will air the team's first game against Northern California at 4 pm our time tomorrow and the second game on Saturday.
Provided the internet feed is satisfactory, there are also plans to air a video of the games on Island Channel 13.

Tags: