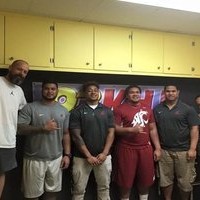 Mark the name Destiny Vaeao.
He's another standout football player from Tafuna High School who has made his presence felt in college football, and is headed for bigger and greener pastures.
Destiny has been playing for Washington State University, coached by American Samoa's own, Joe Salave'a.
Joe's younger brother, Oakland, is the Coach for the Tafuna Warriors.
Other local players on the WSU roster are ex-Tafuna Frankie Luvu and Amosa Sakaria and Nu'uuli Vo Tech graduate Dan Etuale.
Destiny has just announced that he is making himself available for the NFL draft.
Tags: