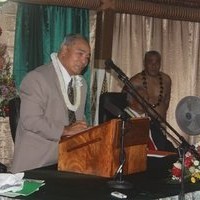 A memo issued by the governor this morning asks directors and CEOs for ASG departments, agencies and authorities to attend a prayer service of the National Council of Churches to begin the new year.
The service will be held at the Ua Taunuu Church of the Congregational Christian Church of American Samoa in Kanana-fou at 9am.
Governor Lolo asked the cabinet to plan their schedules to include attendance at the National Council of Churches service giving thanks for the blessings of 2015 and for God's divine guidance for the territory for 2016.