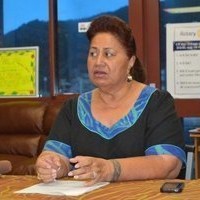 Some parents are struggling with preparations for the high school football team from American Samoa for the Junior Prep Sports America Paradise Classic 2016 in Honolulu.
With the trip happening at a time when families are hard up after spending on Christmas, the four uniforms for the team's week long trip are putting a strain on some parents.
Sports uniforms are provided by DOE but four uniforms for the team's appearances at church, and social outings are the responsibility of parents. Some of the uniforms are high end fashion labels like Tanoa.
Director of Education Vaitinasa Dr. Salu Hunkin Finau said at a press conference yesterday it's tradition for a Malaga or traveling group to have a uniform which Is a signal of unity, togetherness and family.
ASHAA Vice President Tupa'i Rod Atafua said the team has two official uniforms for their games on Thursday January7, and Saturday, January 9th.
Their other four uniforms are three T shirts printed with American Samoa on them , along with lavalavas and a formal uniform for church on Sunday,
The DOE Director told the media the boys are proud of their uniforms and she believes if they look and feel good in their outfits, that would motivate them to win their games.
She wants to remind parents that the government is paying nearly all of the expenses for the trip and paying for their children's uniforms is the least the parents can contribute to the team's preparations.
The team of 3 players and about 20 officials leave for Honolulu tomorrow night and will be staying at the Sheraton Princess Kaiulani in Waikiki. Good luck to the team.