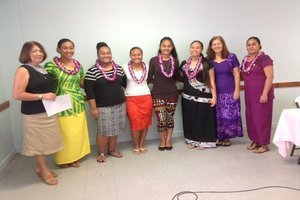 In celebration of its 15th anniversary, the McDonald's Family Restaurant has increased the amount of its scholarship awards.
Four high school graduates were awarded $2,000 scholarships to attend the American Samoa Community College and one student was awarded a $15,000 scholarship to attend an off island university.
The scholarship recipients were announced at a ceremony at the McDonald's offices in Fagatogo.
Parents of the lucky students were prersent to sign MOUs with McDonald's.
The recipients are Luava'asatia April Esera, a Leone graduate, Ferila Metuli, a graduate of Tafuna High School, Leilani Vili who graduated from Nu'uuli Vo Tech, Rabunzel Leo, a graduate of Kananafou High School and Lina Su'a who graduated at ASCC and will major in accounting at the University of Hawaii.
Presenting the scholarships on behalf of the company's President/CEO, Tautolo Agaoleatu C Tautolo was General Manager Delores Galea'i.
Play Audio
Also present were Scholarship Board member Donna Gurr and McDonald's Marketing Manager Evelyn Gebauer.
The recipients shared their educational goals and how they will utilize the McDonald's scholarship to achieve their dream careers.
Luava'asiitia Esera will be studying nursing.
Play Audio
Evelyn Gebauer, McDonald's Marketing Manager said since McDonald's started the scholarship program they have funded about 40 young men and women who have completed their studies and are now employed in their chosen professions.