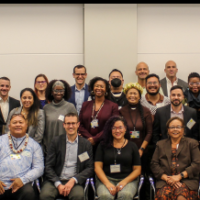 Former House representative Andra Samoa, who attended a Summit on Colonialism in New York early this month, says it was a unique opportunity and honor to be present at this stage of her 40 years of being a public servant, where she has been a legislative staffer in the U.S. Congress, a researcher, a chief executive officer of ASPA and a member of the House of Representatives.
Organized by the group, "Right to Democracy," and funded by top US philanthropic organizations like Ford Foundation and Kaplan, Samoa said the summit illustrated that the four US territories are facing the same challenges in their relationship with the United States.
"We are surrounded by various oceans, cultures, language and strategic governance of the colonial powers and, yet, as we introduced ourselves and our stories on the first and second days, we felt a sense of belonging and being that was long overdue to be unified as a family experiencing the same challenges and realities," she told KHJ News.
"While participants from other territories introduced themselves and shared their fear for their children, we found ourselves crying too, as American Samoa is also experiencing the same pain and fear for our children and their future. "
Also attending the summit were attorney Charles Alailima, a co-founder of Right to Democracy, Ken Aiono and Joe Maae, community champions of change in Hawaii and California.
"Together, our team can educate and reach out to the future generation of independent leaders to provide them with all the information they need in order to decide on a future that will be more inclusive, democratic, transparent, equitable, free and responsive to the unique needs of the community," Samoa shared.
"Colonization has its adverse impact on issues such as environmental degradation, social determinants of health, funding, citizenship, education and much more. However, I do have a strong sense of hope and determination, after networking and sharing our own narrative stories with philanthropic organizations that our future will be sailing through its currents of challenges with their assistance."
She and her co-participants will communicate plans to provide a safe space and opportunity for others, who have been anxious to express their voice and concerns in having issues discussed in a dialogue set up.
Samoa also emphasized that the discussion must involve the youth, who are knowledgeable about current issues through technology, and can contribute analysis and possible solutions.