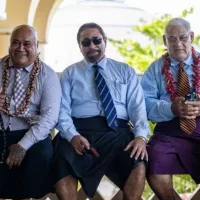 The Faatuatua i le Atua Samoa ua Tasi party has three new members in Parliament following Friday's by-elections at the Siumu, Faleata 4 and Va'a-o-Fonoti electoral constituencies.
All three, Tu'uu Anasi'i Leota, Ale Vena Ale and Mau'u Siaosi Pu'epu'emai, respectively, are former Human Rights Protection Party MPs who resigned and vacated their seats triggering the by-elections.
The preliminary vote count showed that incumbent Mau'u won with 739 votes and Leausa Take Naseri of HRPP polled 201 in the Va'a-o-Fonoti race.
The third candidate, Feutaga'imealelei Osovale Brown, of the CDRP garnered 32 votes.
Tu'uu has also won the preliminary Siumu vote count with 599 votes in a close contest with independent Faalogo Kapeli Lafaele pushing close with 505 votes, and Human Rights Protection Party candidate polling a distant 184 votes.
Incumbent member Ale Vena Ale seems to have retained his seat in Faleata #4 polling 867 votes and Independent Ulu Bismarck Crawley getting 396 votes.
HRPP did not field a candidate in Faleata 4.
Photo: Samoa Observer