Ninety-three year old Grandma Joy Ryan and her grandson Brad Ryan ended their record setting tour of all 63 National Parks last night, when they boarded the Hawaiian Airlines flight to return to Ohio.
Their final day in the territory, yesterday, was spent at the Territorial Administration on Aging celebration of Senior Citizens Day. TAOA Director Evelyn Satele Lili'o said she invited the pair and "They became celebration." She said, "Governor Lemanu was so thrilled to meet them." Especially when he learned that Brad, a vet, had volunteered with the spay and neuter clinic.
Brad wrote of the TAOA celebration on Facebook, "Today, Grandma Joy and I were given special honors by the American Samoa Government at their annual Territorial Administration on Aging Senior Citizens Day Program. We were privileged to meet 101-year old Nalei Moors, a dance instructor and the oldest living woman in American Samoa. She danced for us and our spirits soared."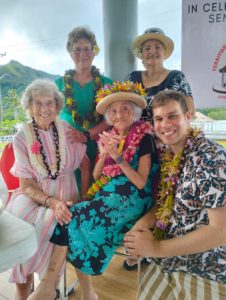 At the TAOA celebration, Grandma Joy and Brad were presented the senior and junior National Park of American Samoa Explorer awards.
Other awards that were presented at the Senior Citizens Day were:
Oldest Senior Award prepared by Congresswoman Uifaatali Amata to Mrs. Nalei Moors.
Community Service Award by the Lions Club to Dr. Faofua Faatoafe of the American Samoa Community College.
Oldest Senior Citizens in the TAOA Senior Service Employment Program by the Rotary Club of Pago Pago to Mrs. Nalei Moors, Mr. Filia Alaia and Mrs. Tofiga Lopesi.
Governor Lemanu said in his speech, "Our senior citizens are some of the most treasured members of our society serving as friends, mentors, teachers, essential workers, volunteers and caregivers.
"They have witnessed and experienced the trials and triumphs of previous generations. Their stories, experiences, and knowledge are invaluable treasures that can provide us with a deeper understanding of our past. By listening to their stories and learning from their experiences, we can gain insights that can help shape a better future. It is because of their foresight that moves our American Samoa forward."
Photos: Evelyn Satele Lili'o