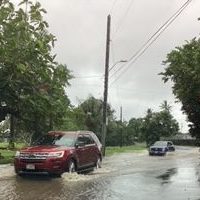 A flash flood warning has been issued, but the blustery weather conditions should start clearing up by this afternoon.
According to the National Weather Service, their station in Tafuna recorded wind gusts of over 40 miles an hour and 4 inches of rainfall since 1AM.
The wet and windy weather will be clearing out of here towards the later part of the morning.
Play Audio
Meteorologist Jane Taifane Allen, who also issued a Flash Flood warning at 6 this morning.
Play Audio