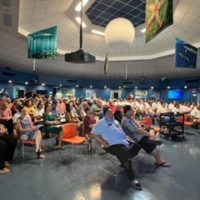 Those who attended and spoke at yesterday's scoping meeting on the proposed new Pacific Sanctuary gave a resounding no to the proposal.
And they were critical of NOAA seeking comments from the territory at a late stage in the sanctuary designation process.
The planned national marine sanctuary would include the marine areas within the existing Pacific remote islands marine National Monument, as well as those currently unprotected submerged lands and waters of the entire Exclusive Economic Zone. The area covers 770,000 square miles.
The crowd of more than 150 included cannery leaders and employees, business owners, fishermen, politicians and matais. Lt. Governor Talauega Rleasalo Ale was in the audience.
Representatives of the Pacific Remote Island Coalition from Hawaii, whose request to NOAA was the impetus for the sanctuary proposal, were also present.
Before the meeting, protestors against the sanctuary plan lined both sides of the highway from the net repair dock to in front of Sadie's.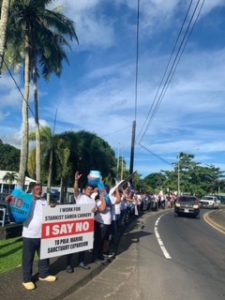 Atuatasi Lelei Peau, Superintendent of the National Marine Sanctuary of American Samoa, moderated the scoping meeting and gave a brief presentation on how the proposal came about.
William Aila of the Pacific Remote Island Coalition gave a brief statement.
Play Audio
Resident Tasi Mauga who worked for StarKist Samoa for decades as Personnel Manager favored the expansion.
Play Audio
Businessman Vince Haleck, owner of a longliner company gave this opinion.
Play Audio
Chamber of Commerce Chairman Jason Betham. Play Audio
Faafoi Palepua of StarKist Samoa made this announcement. Play Audio
Among those who spoke against extending the area in which commercial fishing would be prohibited were female employees of StarKist Samoa. They described how the cannery has taken care of their families, and put their children through school. They said they didn't want to lose their jobs as it was their only means of earning a living.