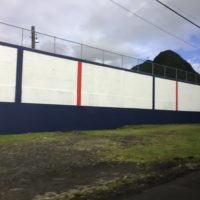 Members of the public, especially those living close to the Territorial Correctional Facility, want answers from ASG on preventing inmate escapes which are becoming all too regular.
The latest happened over the weekend with three inmates leaving the TCF.
Calls to the Director of the Department of Corrections, Tauanuu Faisiota, and Prison Warden Papalii Marion Fitisemanu, over the span of four days have not been answered.
"The public needs to be ready to defend themselves at all times when inmates who are supposed to be locked up are roaming around," said one caller. She complained that the department responsible for the TCF never alerts the public when inmates escape. She said, "At least publish photos of these inmates so we can recognize them."
A father told KHJ News, he read in one of the stories, comments by the warden that the inmates are getting out through the back of the TCF which still has the old fence that's not very high. He said the government should make funds available to extend the "Great Wall of China" to protect the whole facility.
Since the Department of Corrections took over the TCF from the Department of Public Safety, the escapes have been more regular. One inmate in particular, Joeita Faaaliga, has left the TCF four times this year.
Deputy Commissioner of Public Safety, Terry Letuli says DPS only finds out when members of the public who sight inmates outside or are victimized by inmates on the loose, contact them for help. He said for the public's protection, DPS plans to sit down with the leaders of the Dept. of Corrections to discuss how to prevent the escapes, develop an open line of communication when inmates escape, and ensure that the public is notified when inmates are on the loose.