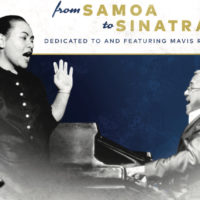 The newly awaited CD, recorded by Grammy Award winner and son of Samoan Queen of Jazz, Mavis Rivers, La'auli Matt Catingub, was released in Los Angeles, May 12.
"It is also again most fitting to pay tribute to the memory of Mavis Chloe Rivers who was born in Samoa May 19, 1929 and passed away in the US May 29, 1992," Pulotu Siteine Peta Si'ulepa-Ala, Festival Director, Samoana Jazz & Arts Festival 2Samoas told news reporters.
Regarding the CD, La'auli Matt Catingub excitedly shared through social media, "My brand new recording From Samoa to Sinatra" on Summit Records has been released. Dedicated to, and WITH, my jazz singing mommy Mavis Rivers, the first female artist signed by Frank Sinatra to his Reprise Record Label. Fantastic band and fantastic orchestra, it's a career defining recording, and I hope you all enjoy it! It's available at the usual places (Amazon, iTunes Store, etc)."
Plans are now in progress for next year's 8th Samoana Jazz & Arts Festival 2024, which will be themed "From Samoa to Sinatra" — featuring La'auli Matt Catingub leading a Jazz orchestra and a star-studded festival line-up of international Samoan, as well as other Jazz musicians.
It is the intention of the festival organizers to highlight the significant contribution that Mavis Rivers made to jazz, both, in NZ and the US, and by doing so bring the Islands of 2Samoa's into the international jazz arena.
The Samoana Jazz & Arts Festival 2Samoas dedicated its 5th Annual 2018 festival to the memory of Mavis Rivers led by her son, who brought a Jazz Band to the festival to perform her favorite songs. The US Air Force Jazz Band, Papana, also joined Matt's Band for the occasion providing the jazz brass section as a complementary addition to the big band sound.