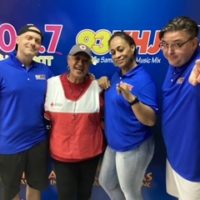 American Samoa is celebrating the Red Cross Centennial and Red Cross month with a radiothon.
Listeners are encouraged to turn up their radios and open their wallets to support a good cause, as 93KHJ and V103 are set to host a radiothon for the Red Cross. The event coincides with American Samoa's Red Cross Centennial Celebration, and aims to raise funds for the organization that has helped countless individuals and communities overcome tragedy over the years. The Red Cross hopes to present a sizeable donation when the head of the Red Cross Honolulu district attends Flag Day in two weeks.
The radiothon will kick off at 7am today, and will continue until 5pm. John Raynar and Sia Atofau will serve as hosts for 93KHJ, while Rev. Alu Faaasino will captain the airwaves on V103. Donation stations will be available in Utulei near the Fale Samoa, and in Tafuna at the main Red Cross office near McDonald's.
The Red Cross in American Samoa is organized under the American Red Cross and has been instrumental in providing support and aid during times of crisis. All donations from the public will be forwarded directly to the American Red Cross on the mainland from which the American Samoa office received funding to continue its vital work.
Listeners are encouraged to support the cause and make a contribution to the Red Cross during the radiothon.