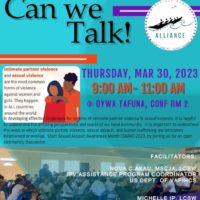 There was frank discussion about intimate partner violence at a Can We Talk session, featuring speakers from the VA Intimate Partner Assistance Program.
The meeting was hosted by the American Samoa Alliance Against Domestic Abuse and Sexual Violence at the DYWA Gym in Tafuna.
The presentations covered what intimate partner violence is, how to recognize the signs, reporting of such incidents and available services for victims.
The facilitators from the VA Intimate Partner Assistance Program were Nova Akau and Michelle Ip.
They discussed some resources that individuals going through relationship issues can use as prevention measures. The representatives said data on intimate partner violence is also needed.
A woman who has experienced rape questioned, how all these services have really helped victims. After participating in many such discussions, she seemed reserved in sharing her story—even with the people who are supposed to help her.
She said, the only positive thing is she's able to share what she went through with her daughters, noting that this is not the norm in the Samoan culture; but because of her experience with rape, she's able to talk to her daughters and protect them.