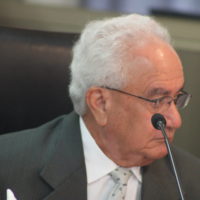 The Senate Select Investigative Committee approved, yesterday, the selection of Sonny Stevenson as a consultant to the committee in its investigations of the TalofaPass system.
Committee Chairman Senator Togiola Tulafono announced at a brief meeting of the committee, yesterday, that with Stevenson's extensive knowledge and experience in IT, he believes he would provide valuable insight in the committee's probe into TalofaPass.
During the Fono recess, Togiola made a trip off island related to the committee's investigation.
He said, he met Sonny, the son of Senator Alo Dr. Paul Stevenson during the trip.
KHJ News understands that the younger Stevenson had submitted a proposal for the American Samoa Safe Travels RFP during the COVID pandemic. The contract was awarded to Honolulu-based DataHouse Inc., which developed the TalofaPass portal.
The Committee approved retaining Sonny Stevenson as a consultant.