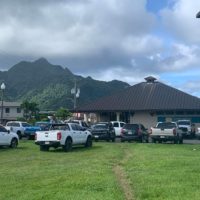 The disruption of services at the Territorial Bank of American Samoa (TBAS) was due to a system failure at Bluesky Communications.
According to the CEO of Bluesky, Justin Tuiasosopo, there was a system breakdown which affected the areas of Faganeanea, Matu'u, Fagaalu and Utulei, which caused a system wide outage. This took down all of the phone company's services. Bluesky is the Internet Service Provider for TBAS.
Because of the outage, the bank's two branches at the Centennial Building in Utulei and Tafuna did not open until 11:40 AM, when Bluesky was able to restore services.
The Bluesky CEO said, their crews worked to restore the services and he apologized for the inconvenience that the outage caused.
"We are trying to make sure all our services are up and running," he said.
TBAS advised 93KHJ, after 9 this morning, that the bank would delay opening until their systems were restored. All of the banks ATMs were also down during the outage.
All services were restored at 11:40 AM.
There were large crowds of customers waiting outside the Utulei and Tafuna branches.
Because the bank's phones were not being answered all morning, customers took to social media to ask when the two branches will be open or when the TBAS ATMs would resume dispensing cash.
TBAS apologized to customers for the disruption in services.