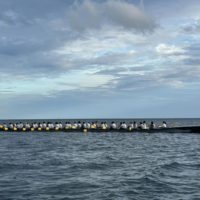 There'll be a few Fautasi races to enjoy leading up to the Flag Day race on April 17.
The Chairman of the Fautasi Committee, Taotasi Archie Soliai, says there will be time trials on April 10 to 12, to determine the lane placements.
In past races, the draw of numbers was used to decide the lanes. But Soliai said, this time around they will use the race time from the trials to decide the lanes.
The Fautasi with the fastest time will have the lane closest to the airport side of the shoreline, and so forth.
If the weather cooperates, the Flag Day race will be held on the afternoon of Monday, April 17. The Committee is planning to have a 7 mile race, but all depends on the condition of the seas.
Safety of all crew is being stressed. Soliai said, the Department of Search and Rescue will conduct safety training for each Fautasi, and a list of the names of all crew members who will be on each Fautasi is mandatory.
Paepaeulupoo of Aua are the defending champions from the last Flag Day Fautasi race that was held in 2019.
From 2020 to 2022, there were no races due to the COVID pandemic.
No information yet on the purse for the 2023 Fautasi race.
Photos: Taupau Tauleave Toluono