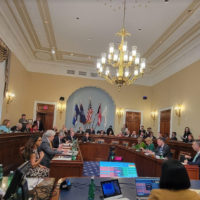 Congresswoman Uifa'atali Amata is highlighting efforts underway in the Natural Resources Committee, to rein in rising energy and fuel costs around the country.
These costs are a major factor in inflationary price increases on food and other products, due to the added burden in shipping and transport.
Congresswoman Uifaatali stated, "I've often said that food security is part of national security, and we can say the same for energy security and ensuring the dependability of our entire system of supply chains.
"House leadership has signaled the immense overall importance of this issue nationally by naming the Lower Energy Costs Act as bill number H.R. 1."
Natural Resources Chairman Bruce Westerman has also introduced the Transparency, Accountability, Permitting and Production (TAPP) of American Resources Act, H.R. 1335, a bill working in conjunction with H.R. 1 to renew national energy policy. This week the Committee marked up the TAPP American Resources Act including a series of votes.
In other Committee action, the Subcommittee on Water, Wildlife and Fisheries, on which Amata serves, held an oversight hearing titled "Benefits and Access: The Necessity for Multiple Use of Water Resources," setting the stage for continued efforts to ensure water supplies for a range of issues, from America's rural agriculture uses to fishing and recreation access.