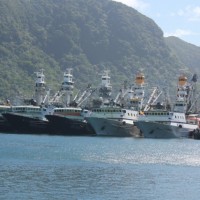 An administration bill, which establishes the licensing of purse seiners that land their fish in American Samoa, has been approved by, both, the House and Senate and will soon be on its way to the Governor for signing.
Yesterday, the Senate approved the House version of the bill.
The Department of Port Administration will issue the licenses to land fish for US purse seiners that sell their fish to the local cannery. The licenses cost $500 and the fees are assigned to Port Administration, to cover processing and administration of the licensing program.
Director of Marine and Wildlife Resources, Archie Taotasi Soliai, told a Fono hearing on the bill that the licensing program will aid the territory in its efforts to seek full benefits and privileges as a Small Island Developing State/Participating Territories within the Western and Central Pacific Fisheries Commission.
This is the world body that regulates commercial fishing in the Pacific.
That designation will remove current limitations on fishing days for US purse seiners that are locally based and that supply StarKist Samoa.