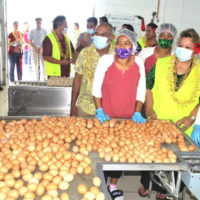 A pallet of eggs that arrived on the Lady Samoa last Thursday is to be the subject of ongoing discussion between several ASG departments involved in the approval of food imports.
The eggs are believed to be locally hatched at poultry farms in Samoa.
KHJ News understands that the Department of Health inspected the pallet of eggs which is in the custody of the Dept. of Agriculture.
Responding to KHJ News questions, Director of Health, Motusa Tuileama Nua, said that as a result of discussions at the Atoa o Samoa talks, the Dept. of Agriculture was to look at goods that we can import from Samoa and vice versa. This is all in the name of food security.
But before this could happen, they were to come up with regulations to guide what could be imported from Samoa.
He said, he was not aware of the Dept. of Agriculture's plans for the pallet of eggs, but he hoped to get more information when he meets with DOA and Customs.
Director of Agriculture, Solia Mutini, is currently off island but KHJ News has sent him questions regarding the pallet of eggs.
A health official told KHJ News issues of concern are that the poultry farms, where the eggs are from, should meet USDA standards and when the eggs are transported to the territory, they should be stored in a cool place.
The main poultry farmers in Samoa are Ah Liki and Frankie's, companies that the American Samoa delegation visited last year.
Photo: Talamua Media