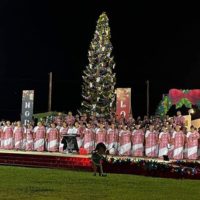 The weatherman served up fine weather for the opening night of the ASG Christmas Program last evening, at the VA Field in Tafuna.
The carols, Christmas  trees, the lights and the gathering of people from all over the territory in the ASG workforce, created the spirit of Christmas for those who witnessed the event, and many more watching KVZK-TV's coverage of the first night.
The message from Rev. Faalili Otineru of the CCCAS Fagalii was about Jesus, the Son of God becoming man and being the greatest gift for mankind.
Governor Lemanu Peleti Mauga said, Christmas is the season of love, thanksgiving, celebrations, gathering of family and friends and also a time of reflection.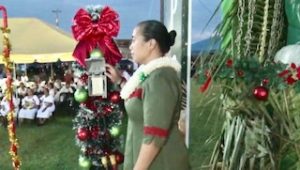 He said, it was an opportunity to reflect on one's life and whether they are following the right path or need to make changes.
The governor also emphasized the gift of children and the duty of parents to take care of these precious gifts from God.
First Lady Ella Mauga, along with Mrs. Marian Ale, wife of the Lt. Governor turned on the switch to light up the Christmas tree and simultaneously lit up a flame atop the Veterans Monument.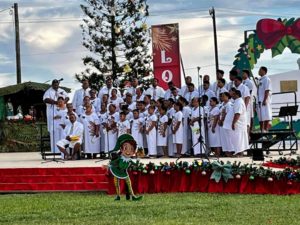 Then the caroling began with the scheduled choirs from various departments, after a few hymns from the Fagalii CCCAS.
The Governor's Office staff was the first to perform and the evening ended with the Department of Public Safety in a spirited action medley, in which they asked the public to celebrate responsibly and not to drink and drive this festive season.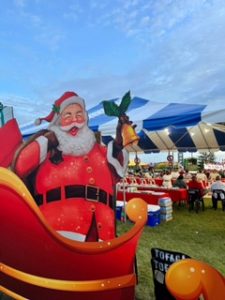 The ASG Christmas Program continues at 6 tonight at the VA Field with performances by:
1. Department of Human Resources & Office of Disaster Assistance and Petroleum Management
2. Department of Administrative Services & Department of Public Works
3. American Samoa Power Authority
4. Department of Public Health
5. Department of Agriculture, Parks and Recreation & Territorial Bank of American Samoa
6. Department of Commerce, Environmental Protection Agency & Budget
Photos: American Samoa Visitors Bureau