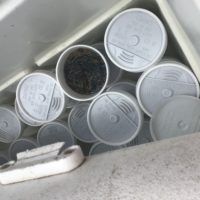 As of 10:30 this morning, there were still people selling palolo by the road side.
Earlier in the morning, the Fagatogo market place had one seller and the cost was $30 for a small foam cup of palolo.
The same seller later moved to Fagaalu Park.
Another seller had two large size coolers filled with 20 oz cups of palolo. She was selling in front of the theater building in Nuuuli and charging $40 per cup.
Mrs. Tupou Fili said, her family caught palolo last night off the airport, on a boat, and the harvest was abundant at the popular hunting spot.
Some people stopped by but left without buying any palolo when told of the price.
Mrs. Fili had not finished counting the proceeds of her palolo sale when KHJ News stopped by.
A business owner told KHJ News that last night's harvest was one of the best in recent years. He wasn't selling his catch but will share with relatives and friends.
His palolo catch was also off the airport.
Reports from another popular palolo hunting spot, Alega, say there was some palolo but it was weak.