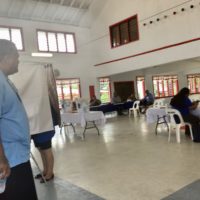 Unofficial election results from yesterday's voting were released by the Election Office around 6:30, this morning.
The delay was because of slow results of the referendum vote coming in from some of the districts, including the largest voting districts.
15 of the 20 incumbent members of the House of Representatives are returning to the Fono after yesterday's midterm election.
Five new faipule were elected. They are:
Shaun Onosai Vaa, who unseated Lavea Fatulegaee Mauga in Vaifanua
Malaeoletale Melesio Gurr, who won over incumbent Vailiuama Steve Leasiolagi in District 8, Fagatogo
Tapai Alailepule Benjamin Vaivao, who won in District 10, Maoputasi #4, whose incumbent faipule Vaetasi Tuumolimoli Moliga did not seek re-election
Tautoloitua Sauasetoa Ho Ching, who unseated one of the two incumbents from Ituau, District 12, Logoituau Mark Atafua
Fiu Johnny Saelua, who won over incumbent Andra Tereise Samoa in District 13 Fofo.
Returning to the House are:
Alumamalu Ale Filoalii and Fetui Fetu – Manua District 1,
Tiaoalii Fauagiga Sai – Manua District 2
Titialii Kitara Vaiau – District 4, Saole
Luaitaua Gene Pan – District 5 Sua, who was unopposed
Avagafono Tuavao Vaimaga Maiava – District 6, Sua #2 who was unopposed
Vailoata Eteuati Amituanai – District 7 Maoputasi #1 also unopposed
Vesiai Poyer Samuelu  – District 9, Maoputasi #3, unopposed
Tapai Alailepule Benjamin Vaivao – District 10, Maouputasi #4
Faimealelei Anthony Allen – District 11, Maoputasi #5
Manumaua Wayne Wilson – District 12, Ituau
Savali Talavou Ale – District 14, Alataua
Larry Sanitoa and Samuel Ioka Meleisea- District 15, Tuala-uta
Ape Mike Asifoa – District 17, Leasina, unopposed
Sua Alexander Jennings, Swains Island
None of the ten women candidates who ran were successful and for the first time, in two decades, there will not be a female in the House of Representatives.
Click here for the results of the American Samoa House of Representatives races, as provided by the Election Office: House of Representatives Summary.pdf
Incumbent Congresswoman Uifaatali Amata ran unopposed and is returning for another term in the US Congress: Congress-Summary