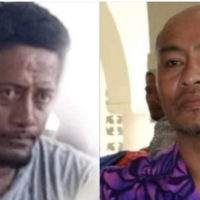 The Supreme Court in Samoa has set February 2023 to hear allegations against Talalelei Pauga, Lemai Faioso Sione and Malele Paulo of plotting to assassinate former Prime Minister Tuilaepa Sailele Malielegaoi.
A fourth man, self-confessed hitman Taualai Leiloa, who has been serving 5 years at Tanumalala Prison since 2020, after pleading guilty of the conspiracy, has maintained the involvement of the other three, especially alleged plot leader Pauga.
Samoa Global News reported Leiloa named Australian-Samoan Talalelei Pauga as the person who contacted him from Australia via messenger, to order the assassination.
He told the Village Council of Laulii and, later, the Samoa Police, that Pauga asked him to shoot the then Prime Minister Tuilaepa.
The Lauli'i council had summoned him to find out where he got money from, that he had been using to buy alcohol for village youth.
He said, he was paid to shoot Tuilaepa at the Opening Ceremony of the Pacific Games in July 2019.
Failing this, he was told to go to the Catholic Church at Siusega to wait for the Prime Minister when he attended early morning Sunday mass. He was also told by Talalelei Pauga, to go to the Apia fish market, on Father's Day Sunday in August 2019.
He said, he was provided with a car and a weapon, and was directed to the three locations to carry out the proposed assassination.
Pauga continues to fight extradition from Australia to stand trial in Apia and remains in custody there, despite having an extradition order quashed by an Australian court.
Amnesty International and an Australian Green Party Deputy whip, Senator Janet Rice,d have publicly accused Samoa of infringing on the human rights of the Australian-Samoan.
The Senator and Amnesty International have, both, publicly stated that Pauga would not receive a fair trial in Samoa.
Photo:Samoa Global News