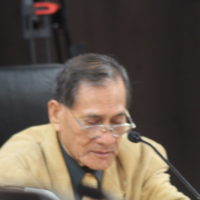 The Senate has decided not to hold confirmation hearings for the director nominees of the new divisions of the American Samoa Government, for now.
According to Senate President Pro Tem Senator Magalei Logovii, the confirmation hearings for the directors of the American Samoa Search and Rescue Agency and the American Samoa Corrections Agency will be held off until they decide how to proceed with the enabling executive order by the Governor.
"We don't agree with the opinion of the Attorney General," said Magalei. Adding that they are leaning towards taking the matter to court.
The AG believes, the Governor has the authority to set up the two agencies and his executive order to do so does not conflict with existing law.
The Senate Public Safety Committee takes the position that the Governor cannot remove divisions of the Department of Public Safety, namely, Corrections, Fire and Marine Patrol, which were established by law.
The committee has voted to return the funding in the proposed Fiscal Year 2023 budget for the three divisions back to DPS.
Magalei told KHJ News this morning the funding for EMS is to be restored to the budget of the LBJ Hospital, instead of leaving it in the budget of the American Samoa Search and Rescue Agency.
Senator Magalei, co-chair of the joint budget hearings, told KHJ News that the House and Senate will meet Wednesday morning to finalize the FY2023 budget. They will confirm a decision on the unbudgeted salary increases for directors and deputy directors, and the budget for the two new agencies.