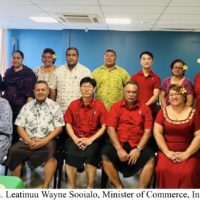 The StarKist Samoa Plant Director, Mr. Injoo Ha and Management visited Samoa earlier in the week to establish partnerships with the Government of Samoa for the recruitment of about 1000 workers.
The intention is to utilize the established labor sending units under the Ministry of Commerce, Industry and Labour and the newly established District Councils for recruitment mandated by the Samoa Ministry of Women, Community and Social Development.
Meetings were held with Leatinuu Wayne Fong, Minister if Commerce, Industry and Labor, Laaulialemalietoa Leuatea Polataivao Schmidt, Minister if Agriculture and Fisheries and Leota Laki Lamositele, Minister of Women, Community and Social Development.
Workers are recruited from Samoa under the special Guest Workers Program by the American Samoa Government (ASG) for StarKist. Current process entails open invitation by word of mouth/media for applications which are reviewed by the company. The ongoing challenge is the inconsistent flow of workers, but the need remains for high volume of production to meet market demands.
The hired guest workers need a host in American Samoa and the employees find their own housing, and are responsible for themselves while working at the cannery.
The Samoa Government is reported to be exploring a scheme similar to the RSE program which sends workers from Samoa to New Zealand and Australia. Under the scheme employers provide accommodation and act as immigration sponsors for the workers.
The group from American Samoa also met with the CEO of Shipping Services that operates the inter island vessel which travels between the two Samoa, Lady Naomi, and the Country Director of APTC, Lagaaia Easter Manila-Silipa who oversees the technical and vocational training at the National University of Samoa.
The visit is a follow up on labor mobility issues raised during the inaugural 'Atoa o Samoa' meeting in July 2022, between Prime Minister Fiame Naomi Mataafa and Governor Lemanu Peleti Mauga administrations for increased cooperation.
The StarKist Samoa delegation was accompanied by Samoa's Consul General to American Samoa, Fata Brian Kaio, Director of Agriculture, Solia Mutini and Chief Procurement Officer, Ti'alemasunu Dr. Mikaele Etuale.
The group visited farms owned by the Ah Liki Group and Frankie Investments. They, also, toured the Taula factory owned by the Ah Likis, which produces beer and soft drinks.
Source: Consulate General of Samoa/Pago Pago