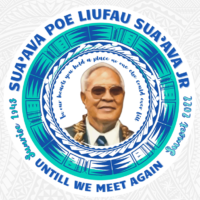 Sua'ava Poe LiufauSua'ava loved to sing Elvis, Tom Jones and Engelbert Humperdinck covers.  His only claim to fame is that he is the Karaoke Champion for Aua Ward with numerous trophies to show.  He loved his village of Aua in which he said that on one end is the Liufau and on the other end is Unutoa and they are both of my lineal heritage.
Sua'ava led a happy life after leaving Aua in 1960 for Hawaii to become a journeyman carpenter and a licensed contractor.  He and a handful of Samoan carpenters dotted towns like Makakilo, Mililani, Moanalua and Waianae with single-wall wood homes.  In 1983, Sua'ava brought his skillset in the trades as he worked as a Building Inspector for Public Works and ran a construction crew after hours.  He constructed  several homes and guest homes in Tutuila as well as the Catholic Church in Aua. During the Coleman and Poumele administration and after Cyclone Val hit Tutuila, Sua'ava was appointed a project coordinator with ASG and FEMA in ensuring FEMA homes were constructed timely but with specifications to withstand future hurricane force winds. Later, Sua'ava ran unsuccessfully as a faipule for his village.
Sua'ava loved to snorkel right behind his home on Ava Point.  He knew all the right spots to catch octopus.  He especially liked hunting for bats on the mafa going up to Afono with cousins Sonoma Liufau and FiavaaiSolomona who have also passed.
Sua'ava loved his Ena family from Olosega to include Charlie Tautolo.  He boasted of his cousins TuaoloFruean from his Faualo family in Apia and LevuSolaita and FagaimaSolaita from his Faamausili family in Malie.
Sua'ava was married to his queen from Manua, Mrs. Janet Talamoa Ale.  They met in Waianae in 1964 and civil marriage the next year.  Two years later they were married in the Laie Hawaii Temple.  They have 7 children and many more grandkids. He is also survived by sisters FuatinoTalo, Nora Wilson, and Aiva Marquez.
Funeral services for Sua'ava will be on August 29, 2022 at the LDS chapel (2074 Lauwiliwili Street) in Kapolei, Hawaii.  Burial will follow in Laie, Hawaii.