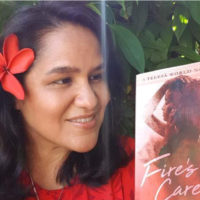 Samoan novelist Lani Wendt Young has beaten out four finalists to win the 2022 Sir Julius Vogel Award for Best Youth Novel for the "Fire's Caress" novel.
 
Samoa Observer reports that Wendt Young, who lives in Samoa, called the award "a lovely surprise" and the cause of much "shouting and choo-hoo's here at our place at Lotopa."
 
She thanked the Science Fiction and Fantasy Association of New Zealand (S.F.F.A.N.Z.) which administers the awards and recognises excellence in science fiction, fantasy and horror over a variety of creative fields.
 
Wendt Young paid tribute to her readers.
 
"You embraced my stories from the start, and have been amazing about celebrating the Telesa World books – long before traditional publishers, critics, and award panels ever even heard of them. Faafetai lava."
 
She and husband Darren self-published her first 'Telesa' novel in 2011 after it was rejected by multiple publishers in New Zealand, Australia and the U.S.
 
Wendt Young is now the author of 16 books, and a recipient of multiple writing awards.