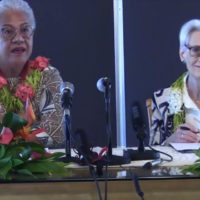 Deputy Secretary of State Wendy Sherman met today with Samoan Prime Minister Afioga Fiame Naomi Mataafa in Apia to discuss shared priorities for the Pacific region.
Deputy Secretary Sherman and Prime Minister Fiame discussed bilateral cooperation to address climate change and other Pacific challenges.
State Department spokesman Ned Price said the Deputy Secretary emphasized the United States' support for a strong and united Pacific Islands Forum to address Pacific resiliency and COVID-19 economic recovery, as well as increasing regional capacity to address future threats to health security, among other issues.
She also reiterated the United States' commitment to continue our increased engagement in the region and advance the U.S.-Samoan partnership.
The Deputy Secretary conveyed the United States' strong support for Samoa's efforts to assist its people during COVID-19.
Prime Minister Fiame thanked Ms. Sherman for her visit and being the first most senior representative from the U.S. to visit Samoa since her government took office.
She acknowledged United States assistance of more than 45,000 COVID-19 vaccines through COVAX that helped Samoa in its herd community drive.
Prime Minister Fiame took note of the shift in US policy in relation to climate change and the return of the U.S. to the climate discourse the Paris Agreement.
She also expressed appreciation for the U.S. Coast Guard and naval vessels providing security and surveillance within the region and the protection of Samoa's economic zone.