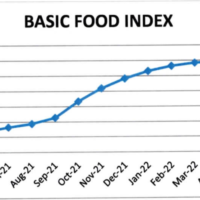 The territory's Basic Food Index rose 1.9% compared to last month's BFI, registering at 141.7 points.
The Basic Food Index (BF) is a monthly rapid food assessment of basic food items, to monitor the cost and availability of these twenty food products throughout the community.
The BFI is not to be confused with the Quarterly Consumer Price Index: a comprehensive standard measure of inflation and the cost of living in American Samoa.
A major upgrade in survey coverage was implemented at tea beginning of 2022 when seven additional stores were included in the data collection, extending BFl coverage from Se'etaga in the West to Amouli in the East.
In total, fourteen major to mid-size retail stores have been selected to monitor basic food costs.
Thirteen out of twenty food commodities contributed to this month's increase of 1.9%, except for three food commodities —bottled water, canned tuna, and bread — which remained constant throughout June.
Thirteen (13) out of twenty (20) food commodities contributed to this 1.9% month-over-month increase.
The thirteen (13) commodities are Eggs (13.9%), Ice Cream (7.5%), Corned Beef (4.7%), Rice (3.3%), Ramen (3.1%) Sausage (2.6%), Chicken Legs (2.5%), Mayonnaise (1.8%), Butter (1.1%), Sugar (0.8%) Taro (0.4%) Milk (0.4%) and Soft Drinks (0.1%).
The trend in BFI and food costs continued to rise rapidly over the last twelve months. An annual comparison of the current BFI to a year ago showed that basic food costs had increased by 23.7%, a monthly average of about 2% increase over a period of twelve months.