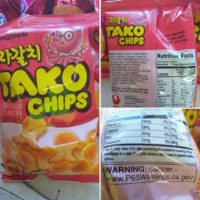 The Department of Health has banned the sale of a popular snack, among children, called "Tako".
A letter from the Environmental Health Division of DOH, to the business community, outlines the concerns raised from the public about food and skincare products, with what's called the P65 warning.
This requires businesses to provide warnings about significant exposures that cause cancer, birth defects or other reproductive harm. The proposition is effective in California.
"By requiring that this information be provided, Proposition 65 enables people in the state to make informed decisions about their exposure to these chemicals."
Head of the Environmental Health Division, Aileen Solaita, said that the Tako chips is being banned because its a popular snack among children and widely available. Plus, most reports that they've received from the public, since proposition 65 was publicized, concerns the Tako chips.
The other product with a proposition 65 warning is colored sponges used to apply makeup.
Solaita says, they have discovered the sponges in a large local retail store and have told the owner to remove them.
"Our teams are sweeping through stores and trying to make sure that these products are removed from shelves," said Solaita.
She's thankful that members of the public are paying attention to what's being sold in stores and alerting DOH.
"This is the kind of support need to monitor consumer goods," said Solaita.
Please contact the Public Health's Enforcement Office at (684) 633-1468/1469.