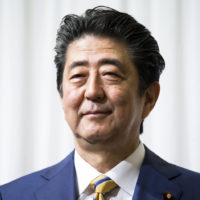 Governor Lemanu Peleti Mauga has ordered that all flags in the territory remain lowered in honor of the former Prime Minister of Japan, Mr. Shinzo Abe.
Mr. Abe was assassinated while delivering a speech in Nara, Japan, yesterday. He was 67.
The Governor's order is pursuant to President Biden's proclamation for flags at all federal buildings, embassies and installations to be flown at half staff in Mr. Abe's honor.
Lemanu ordered that the flag of the United States and American Samoa shall be flown immediately at half-staff until sunset, July 10th, 2022, as a mark of respect of the memory of the former Prime Minister of Japan.
He described Mr. Abe, who was the longest serving Prime Minister in Japan's history, as "a faithful friend to the United States, who worked with American Presidents of both political parties to deepen the Alliance between our nations and advance a common vision for a free and open Indo-Pacific."
On Tuesday, the Governor ordered flags to be flown at half staff from that day until sunset on Saturday, July 9th, in remembrance of the victims of the shootings in High Park, Illinois during a July 4th Parade.