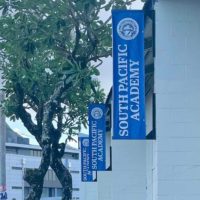 South Pacific Academy has been granted a full six-year accreditation by the Western Association of Schools and colleges, WASC.
In a letter, last Thursday, to the school's President Paul Michael Young, WASC Chairman David Gaudi Jr. said, "based on the satisfactory completion of the accreditation visit, including the school's report, it is the decision to grant six-year accreditation through June 30, 2028."
In an email to the staff and Board of Directors, President Young said, "I want to thank Dean Sabrina Uele for her leadership through this process and the staff for all their hard work, commitment, and integrity."
South Pacific Academy's Board Chairman Fiti Sunia stated, "It is a great honor to be fully accredited by an external quality assurance agency like Western Association for Schools and Colleges, these audits from an outside authority ensure to our stakeholders that we are taking every possible measure to see to it that our students receive the highest caliber education that American Samoa has to offer. We pride ourselves on giving our students a safe and drug-free environment with state-of-the-art technology to learn with and this WASC Accreditation shows us that the methods and standards we have in place will outfit our graduates with the tools they need to succeed at the next level!"
Founded in the late 1970s, South Pacific Academy considers itself the premier private school in American Samoa.