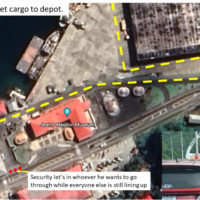 Dear Sir/Madam
Thank you for your response on Talanei and also on KHJ93 radio, the simple answer to the last line of the article is YES, in fact the photos attached are that of Thursday, 23rd June 2022.
We understand that Port, Customs and Quarantine have their procedures, however the local Agent can implement good service to the people whilst adhering to the Ports, Customs & Quarantine protocols.
You have clearly identified the disadvantages and weak points at the dock, now as the agent, how can you make the operations better? If you cannot identify these improvements, then the suggestion to the Hon Minister for Lady Naomi to re-tender the Pago Pago handling agent is within good cause.
On Thursday, 23rd June 2022, there were 4 different stations for the export procedures to be done. Hundreds of people but, staff-wise, you only had 1 person to man each station. Could this also contribute to the delay? There are countless ideas that can be thought up for a better and more efficient operation.
Please find the attached procedures you have in place as of Thursday, 23rd June 2022, our only request is to improve the service for the people.
If a delegation from Lady Naomi Management from Apia visit Pago Pago wharf for the July 7th cargo vessel to arrive and visit the dock on said date, could you guarantee that the people would only be in and out within 15-20 minutes?

With most great respect,
Launiu Saelua