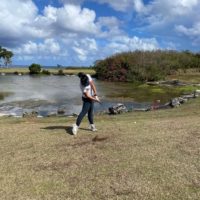 Fifteen-year-old Amelie Chen, placed 14th overall in the ladies singles competition at the Pacific Mini Games in Saipan.
She was the second youngest in the field of 25. Guam fielded the youngest player, a 14-year-old.
Amelie's combined four day score was 343. Day 1: 83, Day 2: 82, Day 3: 87 and Day 4: 91.
This was Amelie's second Pacific Games after debuting at the last Pacific Games, in Samoa.
CNMI's Zhimin Jin won gold with a score of 312, Rotana Howard of the Cook Islands won silver with a score of 313 and Samoa's Faith Vui won the bronze medal with a score of 314.
The Games concluded last night with a spectacular closing ceremony.