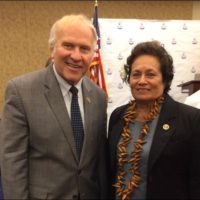 Congresswoman Uifa'atali Amata has called for strong U.S. commitment to the Pacific region while highlighting fishing interests and China's known strategic activity in the area.
Speaking at a hearing on Indo-Pacific priorities, she reiterated her call to base U.S. Coast Guard cutters in American Samoa and underscored the need to preserve the American Samoa Economic Development Credit (30A) — to remain competitive.
In a letter she sent, along with an insert to the official hearing record, the congresswoman stated, "…we are in the midst of strategic competition with China, and China is making a concerted effort to increase their presence in Oceania and the Pacific Islands. Just recently, Chinese Foreign Minister Wang Yi completed a tour of the region, promoting cooperation and promoting a sweeping, regional security and economic proposal with the potential to significantly ramp up Beijing's role in the South Pacific. CNN recently summed it up well 'Pacific Island countries have become the latest arena for a great power contest between the United States and China.'"
She reminded, "Our region is of strategic importance, the South Pacific is key passageway for commerce. If China was to sever the lines of communication in the region, that would have a devastating effect on the United States and our Allies."
"Though it lies outside the jurisdiction of your subcommittee, my home of American Samoa, the only US soil south of the equator, is in the region your subcommittee covers. It is essential, that the United States commits to the Pacific Island region to counter the encroaching threats we face. Every single Pacific Island leader has stated that climate change is an existential threat."
Uifaatali said, "Pacific Island nations are also under threat from illegal, unregulated and unreported fishing, often committed by the Chinese commercial fishing fleet."
To counter this threat, she suggested the United States should establish a permanent U.S. Coast Guard cutter presence in American Samoa.
"The U.S. Coast Guard is one of the United States best soft power tools in the region; with many Pacific Island nations relying on our cutters for maritime law enforcement. Permanent cutters in American Samoa would signify U.S. commitment to the region and to our partners in the region," she stressed.
The Congresswoman also called for a permanent extension of the American Samoa Economic Development Credit, also known as 30A, to ensure that American companies stay competitive against foreign companies —that don't have the same labor, regulatory, and environmental standards— and with fishing operations subsidized by China.