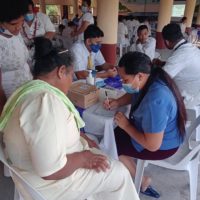 The number of COVID cases in Samoa is now 14,772. 272 new cases were added from June 13th-19th reports the Ministry of Health.
According to the ministry, 8 positive cases were discovered off a Fiji Airways flight on June 11th, 3 cases came off an Air New Zealand flight on June 12th, and 1 case from a Quantas flight on June 14th.
The number of patients in managed isolation has dropped to only 3, and there are no patients in the Intensive Care Unit of the Tupua Tamasese Meaole Hospital.
The COVID-related number of deaths remains at 28 for the country, with no new deaths in the period under report.
The ministry has continued to urge people to adhere to public health advice and maintain standing protocols like wearing masks, washing hands and maintaining social distance.
They also remind that vaccination remains the best defense against severe effects of the virus.